Some Needed Medical Attention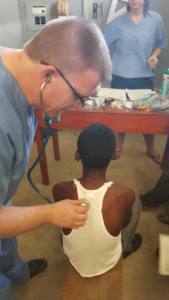 We are so pleased that husband and wife team Don & Lana decided to offer their medical skills to help out in Haiti! Lana consulted with us on how to proceed and to help to set up a procedure to implement on our recent trip. Don joined us in the field performing medical exams on the school students primarily, but also for several others. We now will be better able to monitor the students development using the data as a baseline to compare with future exams. We really appreciate the efforts which were complemented by other team members, Amanda, Abby, Maddy, Mei, & Justin and our Haitian helpers, Alexis, Ti-Carme, & Yvon,
After the kids were addressed, the administrators asked for check-ups too! It was such a blessing to see so many receive what would be otherwise unobtainable. We look forward to seeing this program continue to grow as we develop programs for issues that were revealed like vision impairment and others…
After the workdays at the school were finished, it was "have meds will travel" as we found villagers who needed attention; from fevers to cysts to tumors to throat pains to abrasions. What a blessing! I might add that a couple of team members were happy to receive some minor treatments too. And when Don got some abrasions the villagers were happy to reciprocate!
If you are, or know of, a medical professional that would like to offer those skills to a Third-world environment, please contact us here at Project Nourish.