Renewed Life!
Just on lunch break, I noticed a red van drive past our eating spot heading to the local Filipino store that we occasionally shop at. The lettering on the van said the name of their organization which is working in the Philippines. My wife being a Filipina, and having been a few times, as well as being involved in some missions work there myself, we had to pop over and meet these folks to see what's going on!
We met the founder, Bill and his wife, Ghing, along with her mom. What a great family! They are so dedicated to helping the poor in the Philippines by sharing the gospel, providing medical supplies and treatment, along with a feeding program and other efforts.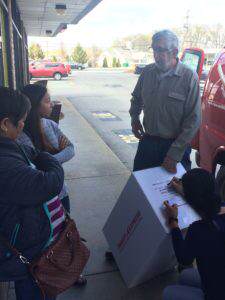 I was reminded of Psalm 41: 1; "Blessed is the one who considers the poor! In the day of trouble the LORD delivers him"
Bill's generous spirit was overflowing as they were preparing boxes to ship and we spoke of shipping containers and providing medical treatment, etc.  He handed us a couple of items for us to send to our work in Haiti stating, "freely we receive, so freely we should give."
It was such a blessing to meet these fine folks and we look forward to whatever may lie ahead in the relationship as we strive to renew distressed lives in the various regions of God's earth!